9 Best Low-Code Platforms To Use in 2022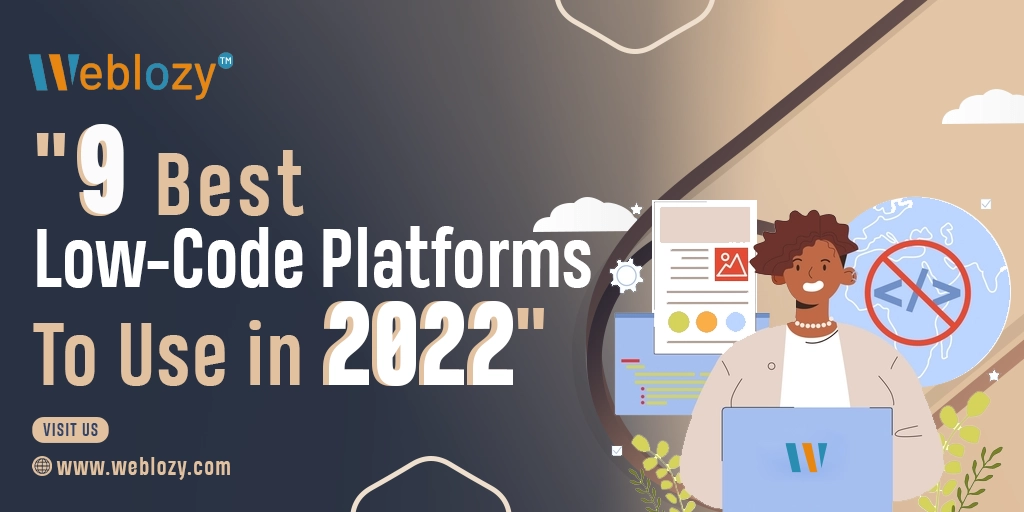 Modern technology has made it possible to create complex programmes without having to spend a lot of money, wait a long time, or hire many engineers. To make such programmes, you don't even need to be an expert coder. Numerous no-code or low-code platforms guarantee that you may create excellent software, websites, and applications with little to no coding.
Low code platforms make workflow automation simple, aid in streamlining company procedures, and give non-technical users access to many features. However, the market is flooded with low-code or no-code platforms that make unrealized promises and have difficult user interfaces and pricey service models.
The top 10 low-code or no-code development platforms for 2022 are discussed in this post.
Let's start now.
Low code development: what is it?
Traditional software development involves various software principles, including for-loops, object-oriented programming, frameworks, package repositories, and integrated development environments, as well as at least one acceptable programming language (IDEs). Software development is made simpler by low code development by enabling drag-and-drop capabilities through a straightforward graphical user interface (GUI).
The GUI of a low-code platform is component-based and uses pre-made templates. Instead of inputting a series of brackets, punctuation, and word strings in page-length codes, users can plug in the modules that best serve their needs.
Users can customise their software slightly more on low-code platforms than they could on no-code platforms thanks to little coding. Both methods for developing software improve productivity and cut down on time.
Which nine low-code platforms are the best?
Graphic LANSA
A low-code, integrated development environment is called Visual LANSA (IDE). Users can create responsive applications for the AWS and Azure cloud architectures on the Windows OS, various browsers, and mobile devices using this environment.
Features:
An effective IDE with low code for creating desktop, online, and mobile applications

A fantastic UI to reduce costs, time, and effort

Controls for extended deployment, integration, and testing

The capacity to code inside the IDE
Also Read: Why Should Your Business Invest in An End-To-End Custom Software Solution?
Appian
Low code platform Appian offers native deployment tools and DevOps integration options. Users of Appian can develop business process management (BPM) apps for organisations of various sizes. BPM software aids businesses in streamlining and improving business operations.
Features:
Tools that can be dropped

Local AI services for the platform

No-code integration of Google Cloud, AWS, and Microsoft Azure with AI/ML platforms

The capacity to combine business systems, data, and web services
Mendix
Mendix, a company founded in 2005, provides several tools for developing, testing, and deploying apps. Mendix is used by more than 4000 companies today. Model-driven engineering (MDE), which emphasises abstract modelling, is used by Mendix.
Features:
Project management that is agile

Visual modelling tools

Reusable parts
OutSystems
Businesses can make apps for many platforms using OutSystems. Real-time performance dashboards and strong security features are among the platform's useful features.
Features:
Real-time tracking and reporting of app performance and usage

Complete scalability via APIs

Fully protected functionality

Rapidly deploying and monitoring mobile apps

automation in DevOps
Zoho Creator
Marketers are familiar with Zoho thanks to its customer relationship management (CRM) solution. A straightforward platform for no-code or low-code creation, Zoho Creator has excellent visual capabilities. The platform combines a wide range of features with an appealing UI, making it adaptable and user-friendly.
Users of Zoho Creator can build useful apps by importing files, databases, and cloud storage information. The built-in tools can be used by users to adapt the user interface to their requirements.
Features:
Excellent scalability and performance.

Migration tools with AI assistance.

Data modelling, organising, and visualisation.

Inter-functional analytics.

Automation helped by AI.
Also Read: Cloud Service Models Saas, IaaS, Paas – Choose the Right One for Your Business
Kissflow
Kissflow is a cloud-based automation solution developed by OrangeScape Technologies that streamlines business processes and monitors performance. Workflow and procedures are managed via Kissflow. The rule-based approach used by Kissflow does away with the requirement for coding and enables users to customise workflows.
It is appropriate for all kinds of companies and industries. Creating process requests, examining items that need user interaction, and approving outstanding tasks are all made easier with the help of Kissflow.
Features:
Drag and drop functionality for adding and editing fields

The capacity to digitally submit forms and requests
Quickbase
For developers looking to construct apps for data collecting and storage, Quickbase is the best LCDP. The platform's low-code development tools enable companies to build apps even if they have minimal background in table-based programming.
Through prebuilt application connectors, Quickbase links well-known cloud services like NetSuite, Salesforce, Box, and Gmail. Additionally, Quickbase has security features including granular roles, permissions, corporate user control, and a strong user interface.
Salesforce Lightning
A component-based application development framework is Salesforce Lightning. The components are used as low-code graphic elements for app development in Salesforce Lightning.
Microsoft Power Apps
Users can quickly and simply construct custom business apps using Microsoft Power Apps. The pre-built artificial intelligence components of the service play a significant role in its outstanding functionality. Over 200 connections are available in Microsoft Power Apps to merge diverse systems and data.
The benefits offered by each of the low code platforms vary. But it might be challenging to select the best solution for your business given the abundance of options. Therefore, it's crucial that you take your business needs into account before deciding. Building a solid software solution necessitates a group of competent software engineers in addition to a dependable low code platform.
You should give Weblozy a try because of this. With Weblozy, businesses can recruit top-notch, previously screened engineers and developers in just a few days. For additional information, go to the hire page.