COVID Impact: Massive Shift of Multiple Industries to Web Technology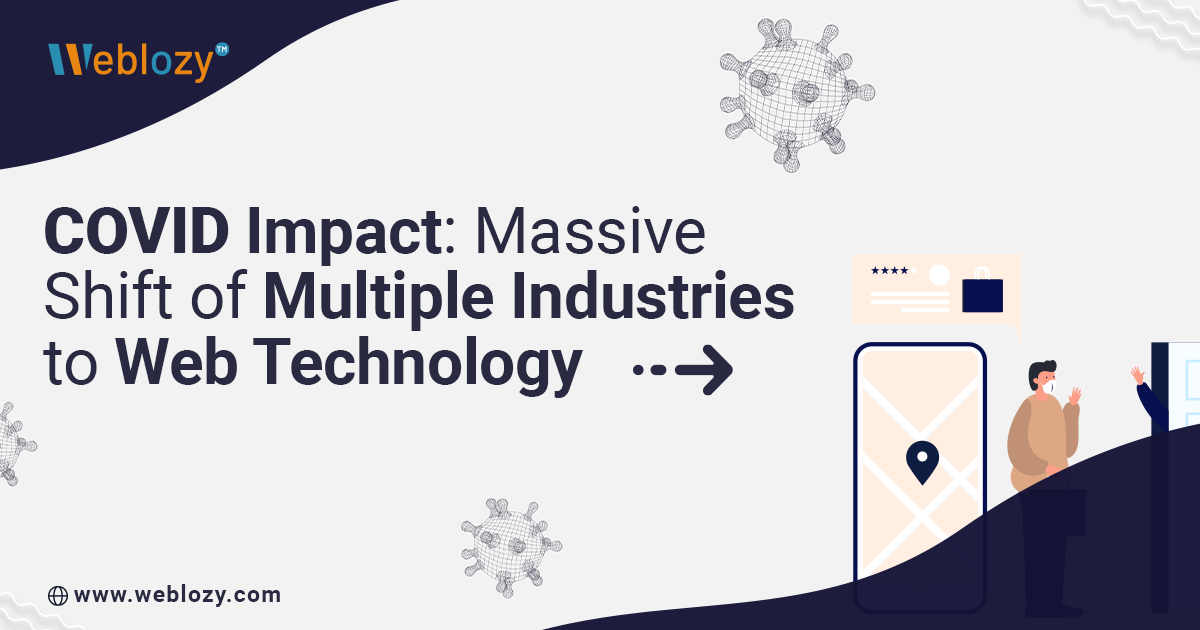 The COVID-19 pandemic has had a profound impact on the world, resulting in a massive shift of multiple industries to web technology. The global outbreak of the virus has forced businesses to quickly adapt to the new virtual reality and many have done so by leveraging the power of web technology. Before the pandemic, many businesses were already using web technology to some extent, but the pandemic has caused exponential growth in the use of web technology.
The shift to web technology has allowed businesses to stay afloat during the pandemic.
Significant Industry Transition to Web Technology
The coronavirus epidemic gave people a fresh understanding of the Internet's importance.
Everyone has resorted to the Internet and web development sector to continue surviving in the new normality as offices, schools, stores, and enterprises have been closed to limit the spread of the virus.
The following industries transitioned to online services, having a significant influence on the web development market:
eCommerce
The simplicity of online purchasing has helped it gain popularity over time.
You may shop whenever you want, wherever, and it is quick and simple. eCommerce systems are becoming essential in many nations due to the epidemic.
In order to avoid going to public locations like supermarkets, people have begun purchasing home necessities and even groceries online.
At the start of the epidemic, several companies had an internet presence. Those that didn't have to catch up to keep from rapidly losing clients.
Due to the rise in demand for e-commerce websites, the price of establishing an eCommerce website in the United States has skyrocketed from a minimum of $5000 in 2019 to $10000 in 2021.
Also Read: DEVELOPMENT MARKET IN 2023: Web or Game
Remote Office Administration
Following the epidemic, businesses of all sizes were forced to close their doors.
For those who were fortunate enough to maintain their employment, working from home became the new standard after many people were laid off.
Overall, there has been a quick change in the nature of labor. Currently, occurring technology advances are upending whole sectors and altering how people interact at work. To ensure the long-term marketability and vitality of your skill set, it is crucial to take into account certain job trends and advancements.
Since then, solutions for managing remote offices and work chats have become more common. We now use video conferencing solutions like Zoom and Skype for our daily meetings.
Healthcare Sector
Before COVID-19, the healthcare sector had already begun to gradually integrate technology across many of its functions.
However, since the pandemic, the industry has completely embraced technology, including online applications, to give consumers access to basic healthcare without forcing them to visit the hospital.
The development of AI-based software applications and decision support systems has accelerated the development of coronavirus vaccination and treatment.
For simple health checks, people are also depending on healthcare applications and technology like the Apple wristwatch.
Social Media
Social media usage has increased significantly since the outbreak. People have resorted to social media for engagement, business, and enjoyment as a result of being locked inside, working from home, and being prohibited from meeting in person.
Due to the increase in social media usage, web and mobile applications like Facebook, Instagram, and WhatsApp have introduced additional business and entertainment capabilities.
Without spending a lot of money, businesses without eCommerce have also used social media to do business and advertise themselves.
Also Read: Why Competitors Analysis Is Important For A Brand's Success
Finance Sector
During the COVID-19 epidemic, the banking industry has likewise been heavily pushed into technology.
Since the epidemic began, there are now a greatly expanded number of financial applications on the market.
Due to the accessibility of these applications on smartphones, people no longer need to visit banks or ATMs in order to conduct transactions.
Numerous apps with excellent security features are available for saving, lending, sending, and receiving money online.
The rise in the need for skilled web developers and designers
Internet usage has increased as a result of COVID-19. Because most individuals are cooped up at home during this period, demand for web design as a whole has significantly increased.
Existing companies also believe that now is the ideal time to develop eCommerce.
The idea of a desired and useful user experience has changed as a result of the rise in the usage of online apps.
To fulfill the expectations of the post-COVID-19 world, web design will continue to be in high demand.
Conclusion
Numerous sectors were severely impacted negatively by the COVID-19 epidemic. Despite these challenging circumstances, the web development sector had a sharp increase in growth and has assisted other sectors in surviving.
A well-known web development and web application development business in India is Weblozy. We use the most recent technology to provide our clients with a wide range of web design and mobile app development services. We are a top-tier digital marketing firm that offers services like SEO, SMM, SEM, and inbound marketing at reasonable costs. Contact us if you need further details.