5 Advanced Technologies Inevitable For Your Business Today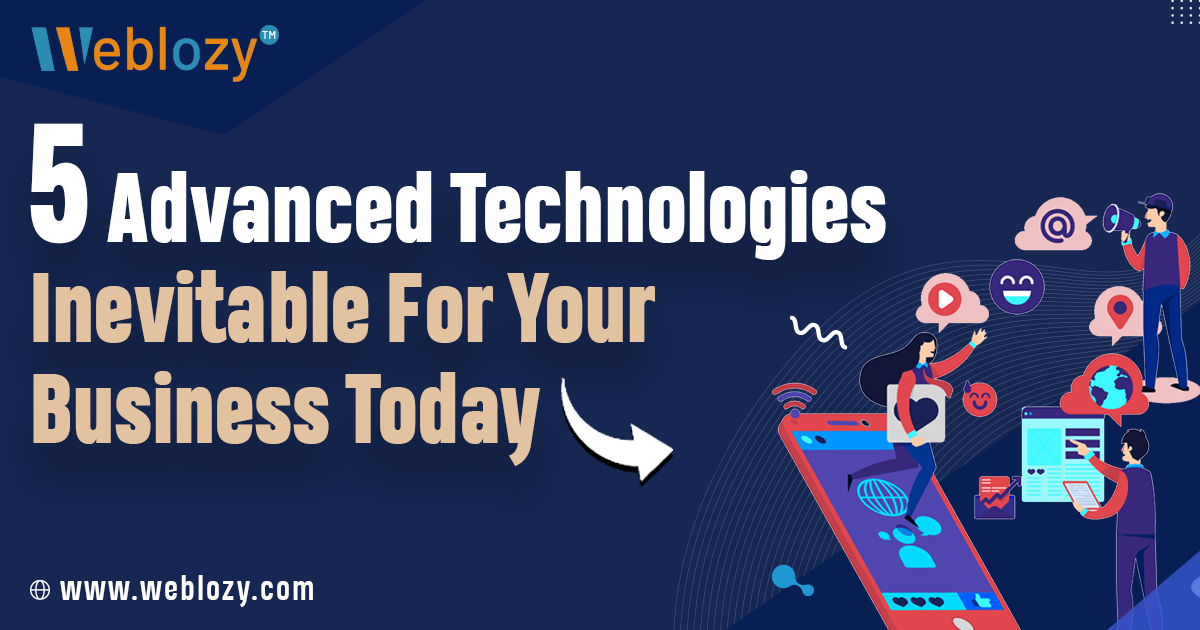 Technology is rapidly changing, and businesses of all types must keep up with the new trends and advancements to remain competitive. While some business owners may hesitate to invest in advanced technology, the reality is that these tools are often essential for long-term success.
Decision-makers are left wondering which options are best for their firm going ahead as more SMBs than ever before attempt to integrate some type of sophisticated technology solution into their operations.
Great Advantage for Expanding Businesses
Modern technology is a great advantage for expanding businesses of all sizes.

Increasing technology within a company may have a good impact on practically every element of a business, whether it is automated customer service or more effective workflows.
Here are five advanced technologies that are essential for businesses today. 
Cloud Computing
Cloud computing has become increasingly popular as businesses strive to keep up with ever-evolving customer demands. By leveraging cloud technology, businesses can access data and applications from anywhere, providing unprecedented agility and scalability. Cloud computing also enables businesses to reduce IT costs and minimise maintenance. 
Artificial Intelligence
AI is quickly becoming a must-have technology for businesses. AI can be used to automate mundane tasks, such as customer service, and can also be used to gain insights into customer behaviour. AI can help businesses to better understand their customers, leading to improved customer service and increased sales. 
Big Data
Big data enables businesses to make data-driven decisions that can improve efficiency and effectiveness. Businesses can use big data to analyze customer data, identify trends, and make more informed decisions. 
Also Read: 2023 Best Custom Software For Businesses Growth
Internet of Things (IoT)
IoT enables businesses to connect devices to the Internet, allowing them to collect and analyze data in real-time. By leveraging IoT, businesses can gain insights into customer behavior, optimize processes, and reduce costs. 
Blockchain
Blockchain technology is rapidly gaining traction, and businesses are beginning to recognize its potential. Blockchain can increase the security and transparency of transactions, reduce the risk of fraud, and improve data integrity. These five advanced technologies are essential for businesses today. By leveraging these technologies, businesses can remain competitive and maximize their efficiency and effectiveness.
Apart from these, Low Code application is also essentially effective in business growth. Low-code development uses drag-and-drop tools to create apps that can handle or optimize difficult or specialized activities. It is faster than traditional programming and is as easy as that.
Low-code platforms may provide enterprise-level solutions for SMBs at a fraction of the cost, whether it increases operational efficiencies or consumer engagement.
SMBs have higher expectations for the platforms they use in every element of their organization, from their CRM to their mobile platform, which is causing the managed services industry to expand at the present rate. The capabilities of commercial software are falling short of the requirements of field employees.
When businesses don't have the right procedures, users take matters into their own hands and create ad hoc solutions to cover the gaps. Businesses demand tailored solutions for particular processes. Tribal knowledge and compartmentalized organizations would often result from this, making it challenging for new recruits.
Along with that CRM is an important element that makes a huge difference. 
Your customers are the lifeblood of your company, and for the majority of companies, growing their client base results in business expansion. The management of specific connections with your clients, however, gets more challenging as they grow. Therefore, in this case, a reliable customer relationship management system is appropriate.
Also Read: COMPETITOR ANALYSIS IN DIGITAL MARKETING 2023
CRM is a cloud-based piece of software that has several applications for enterprises. Among the advantages are:
Client expansion and retention
Leading to leads
Higher business revenue
A reduction in marketing expenses
Project administration
Strong connectivity with other programs, including Office 365, Gmail, and Google Apps.
CRM solutions like Zoho, Salesforce, Insightly, and others are available to your company, and each one offers unique benefits and capabilities.
Now, to solve all your business needs expert assistance is the only way to go. Weblozy helps businesses grow by providing a comprehensive suite of digital tools and services that make it easier to establish and manage an online presence. Weblozy provides businesses with a range of features including website design and development, content management, search engine optimization, social media integration, e-commerce, and analytics. This allows businesses to quickly create and manage their own online presence, opening up new opportunities for growth. Weblozy also provides businesses with access to a network of experts, giving them access to valuable advice and resources to help them improve their online presence and grow their business. With Weblozy, businesses can access a range of tools and services to help them succeed online, giving them the ability to reach new customers and grow their business.