7 Digital Marketing Strategies to Grow Your B2B Business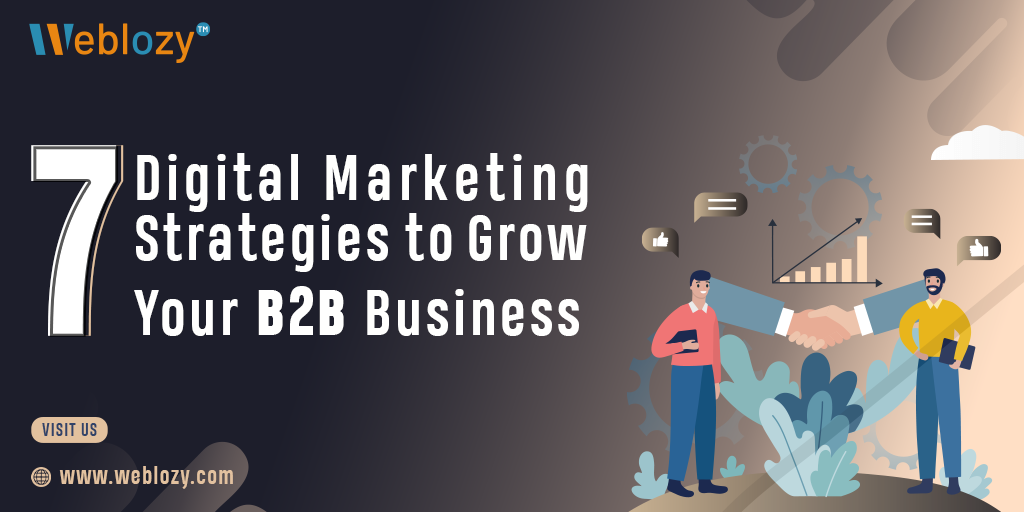 Some businesses focus their direct and outbound marketing strategies—marketing messages you might deliver directly to clients or potential customers—when they consider B2B marketing strategies. The objective of this strategy is to be captivating and persuasive enough to get the audience to respond to the offer and give your services some serious thought.
These kinds of strategies should be included in your marketing toolbox. However, the field of B2B marketing tactics has grown, and purchasers of professional services have developed new habits. 
B2B marketing methods
The selection of B2B marketing methods at your disposal has increased because of this changing market. So, using a variety of methods to the fullest extent is necessary to stay competitive in today's market.
This article will examine seven essential B2B marketing tactics that might assist your business not only keep up but also advance.
Research 
The foundation of any contemporary marketing campaign is research. Detailed scientific studies will aid you in making more informed judgments, from brand to market research. They'll give you a factual foundation for your marketing efforts and give you useful starting points for gauging your success.
You can better serve your customers by conducting research and getting to know them better. You can learn more about the effectiveness of your procedures through market research. You'll be able to identify the parts of your business that are operating most profitably and gain a better grasp of the services you ought to provide.
A Strategy Driven by Niche
Specialization and specialty targeting are among your most crucial business factors, period. Our research has repeatedly demonstrated that the companies with the quickest growth are typically experts in a narrowly focused specialty. You should choose a sector of the market that you are well-versed in and where you can establish yourself as a recognized authority and leader.
Because specialization tends to establish precisely what you do and immediately set you out from the competition, it tends to make all your marketing activities easier. A differentiation that works is specialization.
Also Read: What is the Ultimate SEO Content Creation Agency Guide?
A Website with High Performance
Your company's website is one of your most important assets in the competitive professional services market today. In contrast to what some businesses previously thought, it is much more than a digital billboard or brochure. A company's online presence is centered on its website, which also serves as a wealth of information about the company's experience in the market.
The most important instrument for increasing visibility is your website. To have a chance of obtaining their business, potential customers must be able to locate your company's website when searching online for service providers. Additionally, you can showcase the knowledge of your business and establish a strong brand name through your website.
Search Engine Optimisation 
Your target audience must be able to find your website for it to be effective, as we hinted to in the preceding point. Search engine optimization is crucial in this situation.
This is such a crucial component of internet marketing that high-growth companies identify it as one of their most effective digital marketing tools in our study. 
Social Media 
We have all the evidence you could possibly need to confirm that social media is here to stay for professional services organizations. 
In the aftermath of social media, even referrals have changed in nature. According to a recent study on referral marketing, social media interactions account for 17% of referrals based on expertise. 
Simply put, social media helps your reputation, knowledge, and material go further. You may network, make connections with influential people and useful contacts, and use social listening to keep an eye on your brand.
Advertising 
Several platforms exist where your business can efficiently advertise:
Publications And Websites for The Industry

The Internet

Search Engine Marketing (Sem) - Bing, Yahoo, And Google Ads
Retargeting is a cookie-based solution that use a short piece of JavaScript code to track and offer relevant adverts to your audience anonymously while they browse the Web.
Advertising doesn't simply market your services; it may also be a significant factor in encouraging content downloads, which raises your visibility and competence.
However, it's crucial to use the kind of promotion that are most appropriate for professional services. Because they enable you to target relevant industry audiences, LinkedIn, retargeting, and other industry-focused advertising generally perform most directly well. This results in higher conversion rates, higher click-through rates, and lower cost per download.
Also Read: Best practices to make your Facebook and Instagram ads more engaging
Optimisation And Testing
We began with study, but our scientific method is not yet complete. With testing and optimization, you can continuously improve your marketing strategies and base judgments off facts rather than gut feelings.
Testing and optimization are your constant guides, just as research is the foundation of your marketing strategy. Your marketing initiatives should always be put through rigorous testing and adjusted as necessary.
Final thoughts
It's crucial to keep moving and avoid becoming complacent. Your business must continually evaluate its B2B marketing strategy and look for ways to strengthen them if it wants to stay competitive.
The world of internet marketing is changing quickly, but in the present, the businesses that properly collect and use data about their performance - across a wide range of marketing efforts - are positioned to succeed.