Best practices to make your Facebook and Instagram ads more engaging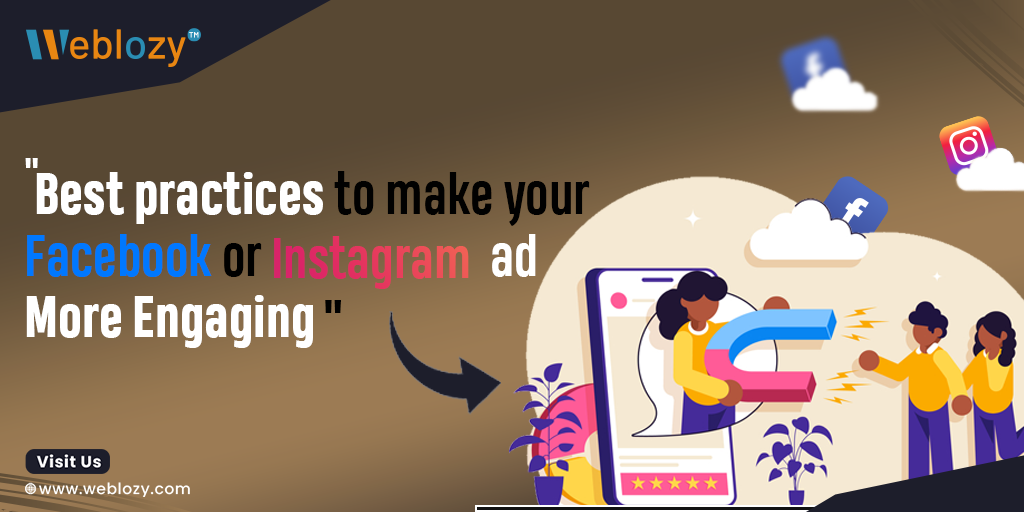 The "reach" factor is the number one reason why you should use Facebook and Instagram for marketing.
With 2.41 billion monthly active users, there is a good chance that your potential customers are currently on the social network.
However, as Instagram and Facebook grew in popularity and more users (and brands) began to use them, so did the competition for attention.As a result, the average organic reach for a Facebook or Instagram page has decreased dramatically and continues to decline.
Facebook and Instagram advertising is on the rise and is here to stay. With just a quick glance at the statistics, you'll realise the true power of Facebook ads and how they can help your business make money.
A whopping 93% of marketers rely on the platform for their advertising requirements. It's working out well for those who take a strategic approach. And those who are willing to try new things in order to succeed.
However, achieving a high ROI with Facebook and Instagram ads is not as simple as it sounds.
You must follow best practices for Facebook and Instagram ads and work on your campaign on a regular basis.
This does not imply that it is rocket science. However, there are a number of variables to consider. You can't ignore the important areas, whether it's targeting your ads or selecting the right format.
Otherwise, you'll end up losing more than you gain.
To begin, you must determine who you are attempting to reach.
The goal is to reach only those users who are interested in what you have to offer. You want to connect with people who...
Are interested in discovering and learning more about your type of content
Are interested in what you sell and how your products can help
Are more than willing to listen to your marketing messages
Also Read: Performance Marketing in 2022 – What it is and how does it Work?
One of the Facebook and Instagram ads best practices that is frequently overlooked is targeting the right users.
To make targeting work, it's critical that you, as a brand, understand...
What social media platforms does your target audience currently use?

How many different languages do they typically use?

What type of communication they rely on

What content interests them the most, and how do they interact with it?
You should be able to find answers to the above questions with enough research.
Remember that knowing your audience intimately goes a long way toward running successful Facebook ads.
Spend time learning about who you're targeting and why.
Concentrate on Writing Better Copy
Facebook ads are well-known for their visual nature. You might be able to imagine a Google ad without an image, but not a Facebook and Instagram ad.
There's no denying the significance of using the right images in Facebook ads. They have the power to make or break your campaign.
According to research ,successful Facebook and Instagram ads contain nearly identical elements. Their images were as follows:
Clear, eye-catching, familiar, or recognisable convey the product, service, or event use a consistent colour palette have elements that guide eye movements and present information immediately
You should also select the appropriate colours to elicit the desired emotions from your target audience.
Also Read: Simple Steps to Become an SEO Samurai
Make Use of Video Ads
Facebook and Instagram is the most serious competitor to YouTube, and it aspires to dethrone it as a video platform.
Why? Because an increasing number of Facebook users are regularly consuming video content on Facebook.
If you do not include video in your Facebook and Instagram advertising mix, you may be losing money.
To truly succeed with Facebook or Instagram advertising, you should not expect immediate results. Instead, develop a long-term strategy.
For instance, suppose you're using Facebook and Instagram ads to generate leads for your real estate company.
You must be certain of how you will nurture and convert these leads into paying customers in the long run.
That is the only way to see a positive return on investment.
You must treat Facebook and Instagram advertising as the first step in introducing interested people into your sales funnel.
Regardless of whether your Facebook or Instagram ad campaign is designed to increase engagement, traffic, leads, or sales.
To avoid losses, you must consider the long term.
In your quest to discover and implement best practices for Facebook ads, don't overlook the importance of having a long-term vision.
Weblozy Marketing employs these Facebook and Instagram ad best practices on a daily basis. We know they work because we've witnessed it.
They will also work for you! Contact us today to schedule a consultation.