7 Underhyped Trends to Level Up Your E-commerce Business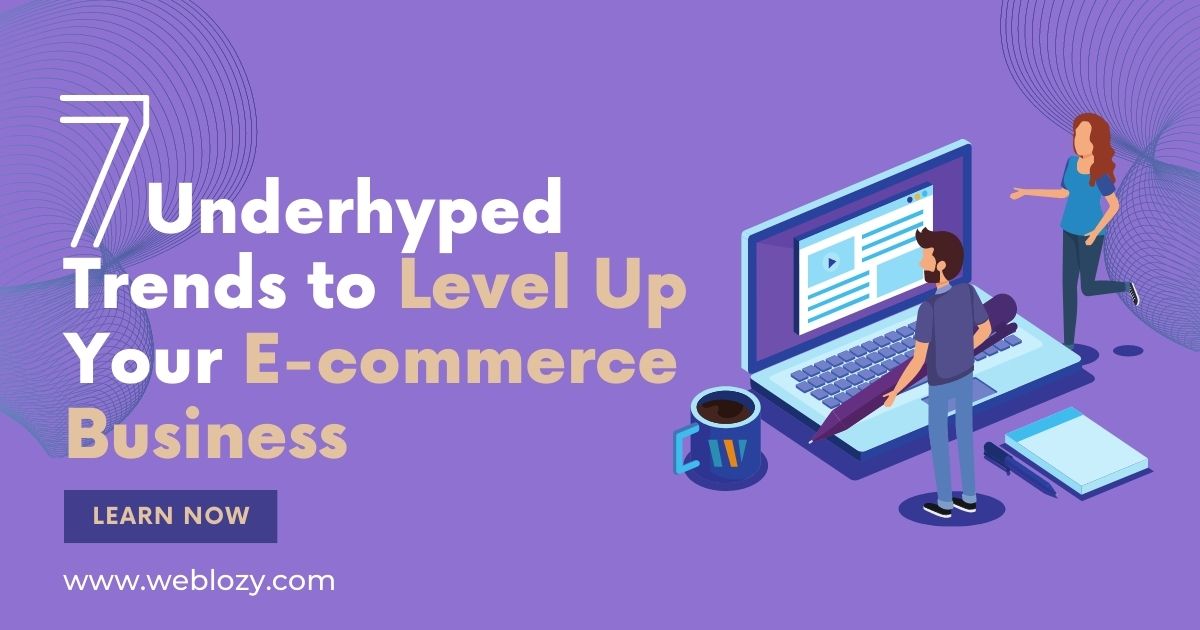 As an e-commerce business owner, you are always looking for new and innovative ways to stay ahead of the competition and maximize your profits. The key to success is staying up to date on the latest trends and leveraging them to your advantage. Unfortunately, there are many trends that fly under the radar and do not get the attention they deserve.
Here are 7 underhyped trends that can help you level up your e-commerce business
Chatbots
Chatbots are a type of artificial intelligence (AI) powered technology that can be used to automate customer service tasks and provide personalized interactions with customers. They can be programmed to answer frequently asked questions, provide product recommendations, and even handle customer complaints. 
Visual Search
Visual search is a technology that allows customers to search for products using images instead of words. It has been gaining momentum in the e-commerce space, as it makes it easier for customers to find exactly what they are looking for. 
Augmented Reality (AR)
AR is a technology that enables businesses to bring their products to life by displaying them in 3D on a screen. This can be used to give customers an immersive shopping experience and increase customer engagement. 
Personalization
Personalization is the process of providing customers with a more tailored and personalized shopping experience. This can include offering product recommendations based on past purchases, providing customized offers and discounts, and displaying personalized product pages. 
Also Read: How to Choose the Best Software Development Company for IT Outsourcing
Social Commerce
Social commerce is a type of e-commerce that takes place on social media platforms. It allows businesses to leverage their social media presence to drive sales, by creating shoppable posts, offering discounts, and running targeted ads. 
Mobile Payments
Mobile payments are becoming increasingly popular, as they enable customers to make payments from their smartphones. This is a great way to increase sales and make the checkout process more convenient for customers. 
Subscription-based Services
Subscription-based services are a great way to create recurring revenue streams and build loyalty with customers. This can include offering subscription boxes, discounts for repeat purchases, or even a membership system. 
How can you benefit from these trends?
It's critical to follow the most recent trends as e-commerce firms develop and expand. The underrated trend of mobile commerce is one of these. The burgeoning field of mobile commerce has the potential to transform online shopping. Customers may shop from their phones without leaving the comfort of their homes by using mobile devices. Customers will find it much easier to shop while on the road as a result.
Automation and Robotics
Automation and robotics are quickly taking center stage in the online services sector. You may improve your productivity and streamline your operations by utilizing these technologies.
Robotic Method Your workflow may be improved in a variety of ways using automation. For instance, they can automate laborious or hazardous operations. They may also assist in decreasing the time required for administrative chores.
Augmented Reality and Virtual Reality
AR and VR give clients a novel product experience that may be quite alluring. They are able to examine things from all sides, learn about them in-depth, and even put them on to see how they fit. Consider making a purchase of augmented reality or virtual reality equipment if you want to grow your online store. It may completely alter the way you do business and be the decisive element in advancing your company.
Blockchain Technology
Blockchain technology is increasingly gaining popularity as a means of enhancing the efficiency and security of internet transactions. This technology is founded on the idea of a secure, continuously updated distributed database. Blocks are used to store transactions, and each block includes a cryptographic hash of the one before it. This makes it challenging for anybody to alter the data and guarantees that each transaction is independently validated by several parties.
These underhyped trends can help you take your e-commerce business to the next level. By leveraging the latest technologies and trends, you can increase customer engagement, drive sales, and maximize your profits.
Also Read: 5 Reasons To Repurpose Your Content 2023: Generate More Conversions
Weblozy is an incredible web development company with a focus on e-commerce businesses. They provide comprehensive solutions that help businesses to grow and succeed in the digital world. From custom web design and development to integrated marketing and SEO services, Weblozy offers everything you need to build a successful e-commerce business. The company's commitment to quality and customer satisfaction ensures that you will be satisfied with the results. Weblozy takes the time to understand your needs and create a custom plan that fits your business goals. This approach ensures that your website will be tailored to your unique needs and objectives. Weblozy also provides a full range of web hosting and maintenance services. This includes server setup, website optimization, and technical support. All these services ensure that your website runs smoothly and securely. Connect to know more.