Moving From Wix To Magento 2: A Full Guide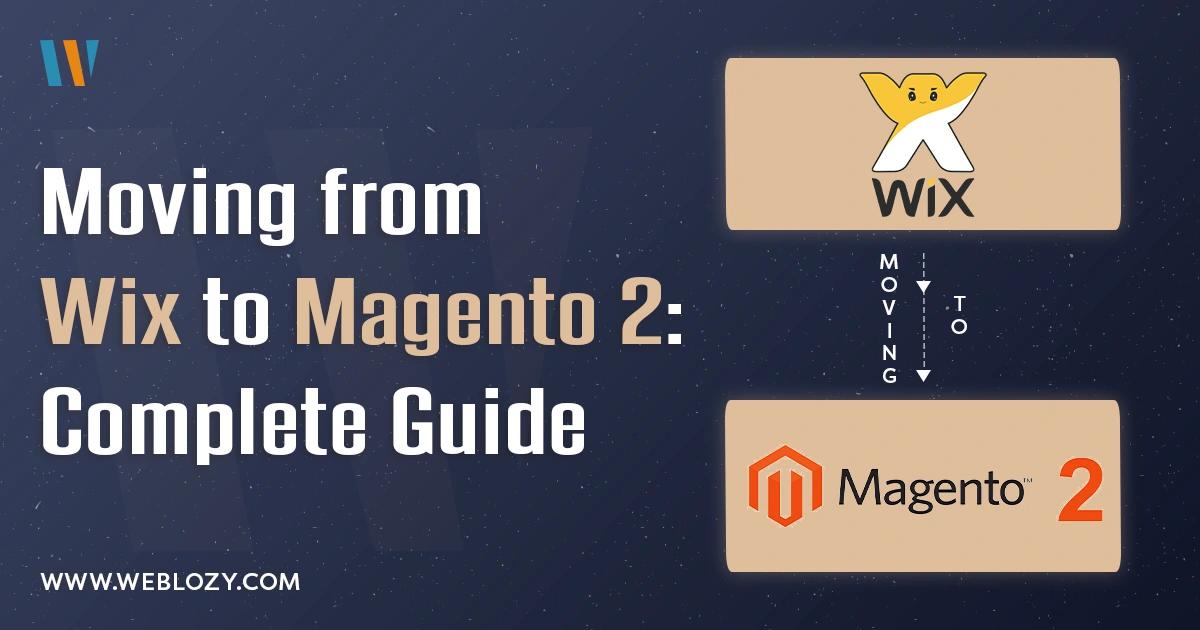 Migrating from Wix to Magento 2 can be a daunting task. The process can be complex and time-consuming, but it can also prove to be beneficial in the long run. Many businesses are finding that switching to Magento 2 is a great way to increase their online presence, boost their SEO, and provide customers with a better shopping experience. 
Wix vs. Magento
Both Magento and Wix provide free and premium options, but the pricing structures are very different. As the best e-commerce platform, Magento has a significant lead over Wix in the Top 10K, Top 100K, and Top 1M Sites, while Wix rules the content-based sector.
Wix is well-represented in 18 more website categories, including Business & Industry, Arts, Entertainment, and People & Society. Nonetheless, Magento is the market leader in areas like shopping, the auto sector, computers, electronics, etc.
Wix is behind Magento in terms of e-commerce coverage even though there are more websites in the Wix ecosystem than there are in the Magento ecosystem. Although the e-commerce shop wants a solution that can handle all of its e-commerce needs, they don't really value multi-purposeness. Vendors that wish to switch from Wix to Magento 2 do so for these reasons. Let's learn how to switch from Wix to Magento 2 now.
Also Read: How to Choose the Best Software Development Company for IT Outsourcing
Data File Conversion from Wix to Magento 2:
Please adhere to these guidelines to transfer your Wix store to Magento using data files:
Step 1: Start by exporting data from the Wix website in XML or CSV formats, including goods, orders, clients, catalogs, and other entities. There are alternative alternatives you can utilize if this capability is not offered. You can find every Wix app here: Apps on Wix
Step 2: Using an import and export extension, these exported files should now be imported on the Magento 2 website. In the Magento 2 admin, go to System -> Enhanced Import/Export -> Import Jobs and create a new import job.
Step 3: You must set general preferences, import preferences, import behavior, and import source.
Wix to Magento 2 migration through API
Using a third-party Import & Export Magento 2 module, you may link your Wix shop directly via API to migrate it to Magento 2. These steps will be used to transmit files using REST or SOAP:
Step 1: After logging in, go to the Magento 2 admin panel, System, Enhanced Import / Export, Import Jobs, and start a new import task.
Step 2: Configure the General Options, Import Settings, Import Behavior, and Import Source here as you would when transferring data files. The process is slightly different, though.
When it comes to Wix to Magento 2 migration, there are several steps you will need to take. This guide will provide you with an overview of the process, as well as helpful tips and advice to make the transition as smooth as possible. 
First, you will need to export your data and content from Wix. This can be done by going to the Wix dashboard, selecting "Export", and then selecting "Export All." This will allow you to save all of your content, including product information, customer data, and blog posts, into a .csv file. Once you have the .csv file, you will be able to import it into Magento 2. 
Also Read: The Best WordPress Plugins for Edutech Websites
Next, you will need to set up your new Magento 2 store. This involves creating a new database, setting up hosting, and configuring the system. It is important to make sure all of your settings are correct and that the system is optimized for performance. Once your store is set up, you can then start importing your data and content. If you have any custom code or plugins on your Wix site, you will need to create a new version of this code for Magento 2. This process can be quite time-consuming, but it is essential to ensure that your store functions properly and that your customers have a seamless experience. 
Finally, you will need to migrate your domain name over to your new Magento 2 store. This can be done through your domain registrar or hosting provider. Once the migration is complete, you will need to update your DNS records to point to the new store.
Migrating from Wix to Magento 2 can be a complex process, but it is worth it in the end. It allows you to have greater control over your store, as well as more advanced features and functionality. With the help of this guide, you should be able to make the switch with ease. If you're looking for a reliable and cost-effective solution for migrating from Wix to Magento 2, then Weblozy is a perfect choice. Weblozy offers a comprehensive guide for migrating from Wix to Magento 2, which is easy to follow and covers all the steps you need to take to complete your migration. With Weblozy, you can be sure that your Wix to Magento 2 migration will be successful.