Revamp Your Business in 2023: Attain Digital Growth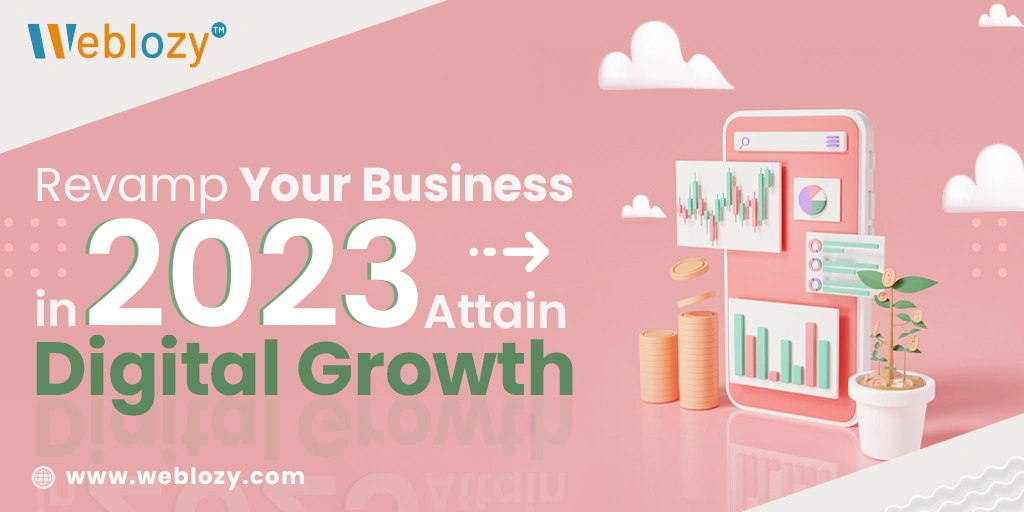 Want 10x growth for your brand in 2023?
Make sure to not miss out on the greatest web trends of the year. The start of a new year is an exciting time for business owners. It's a time to reflect on the past year, think about goals for the upcoming year, and plan for success. With the new year comes new opportunities to revamp your business and take it to the next level. To help you get started, here are some tips for revamping your business growth this new year.
1. Invest in Web Solutions: Investing in web solutions such as website design and development, SEO, content marketing, and digital advertising will help you reach a wider audience and create more opportunities for growth. Digital advertising will help you target the right customers and generate leads.
2. Utilize Social Media: Take advantage of social media platforms like Facebook, Twitter, and Instagram to share content, engage with customers, and drive traffic to your website.
3. Focus on Customer Service: Investing in customer service tools and strategies such as live chat, customer feedback surveys, and customer loyalty programs can help you create a better customer experience and retain customers.
4. Embrace Technology: Investing in technology solutions such as cloud computing and automation software will help you streamline processes and save time.
5. Establish Partnerships: Establishing relationships with other businesses and organizations in your industry can help you grow your business. Look for opportunities to collaborate on projects, share resources, and refer customers to each other.
Forrester predicts that most businesses will struggle to sustain good customer experiences (CX) in 2023, making CX a key differentiator for companies that continue to give it a priority. At the same time, it will be crucial in these hard times to use technology to provide resilience (via automated and updated business processes, supplier risk management, and employee experience).
TX is a strategy that links the customer experience (CX) with the employee experience to enhance interactions between internal and external stakeholders (EX).

Experiences in the metaverse will improve digital ecosystems.
In 2022, the metaverse experienced a significant uptick in popularity and media attention. In 2023, things will start to shift. The metaverse will unavoidably enter the mainstream as more businesses start to take notice of it and learn about its potential to improve digital ecosystems and user experiences. This will begin with more immersive experiences made possible by advances in augmented reality (AR) and virtual reality (VR).
The use of AI and machine learning will increase.
Although AI and machine learning (ML) aren't new, they have made great strides in recent years, and by 2023, they'll probably be widely used across a wide range of businesses.
A TX transition may be assisted in various ways by AI and ML. These technologies provide more broad consumer behavioral insights, improved customer service, streamlined payments, and increased supply chain efficiency in addition to enabling a higher level of customization of information and goods.
The advantages of AI and ML are already evident in the retail sector, where brands and merchants can now offer more customized services and quick consumer support when things go wrong.
Data privacy and security will become more important.
Remote employment, greater digitalization, data collecting, and sharing—among many other trends—are improving corporate practices. However, they can increase a company's vulnerability to cyberattacks.
Companies all over the world are stepping up their data security and privacy controls in order to reduce risks and lessen the impact when breaches do occur. This pattern will undoubtedly persist until 2023 and beyond.
Building an effective TX requires a strong data security and privacy posture, but these activities must be carried out properly for them to be successful.
On the one hand, a solid plan and well-implemented controls will enable you to deliver a secure CX and maintain client confidence.
How to Combat Recession and Rise as A Brand In 2023
Recession affects businesses by reducing demand, reducing profits, increasing costs, and reducing investments. In 2023, businesses should focus on strategies that can help them survive the recession. These strategies include reducing costs, increasing profits, improving customer service, and diversifying their product and service offerings. Additionally, businesses should take advantage of digital marketing strategies to reach new markets and increase revenue. Businesses should be ready to invest in new technologies and develop innovative products and services to remain competitive and gain market share.
Wrapping Up
Weblozy is an ideal choice for businesses that are looking to upgrade their web presence and marketing strategy in 2023. Being a leading web development and marketing company with 9 years of experience in the field, we have a highly skilled team of developers and marketers who provide cost-effective and professional solutions tailored to your needs. In addition, we are also offering up to 40% off on all top services like web development, marketing & software development in the new year sale. Furthermore, our content strategy and carefully crafted UI have resulted in boosting conversions and generations for numerous online brands. Therefore, businesses can trust Weblozy to deliver the best solutions for their website and marketing needs in 2023.