The Best WordPress Plugins for Edutech Websites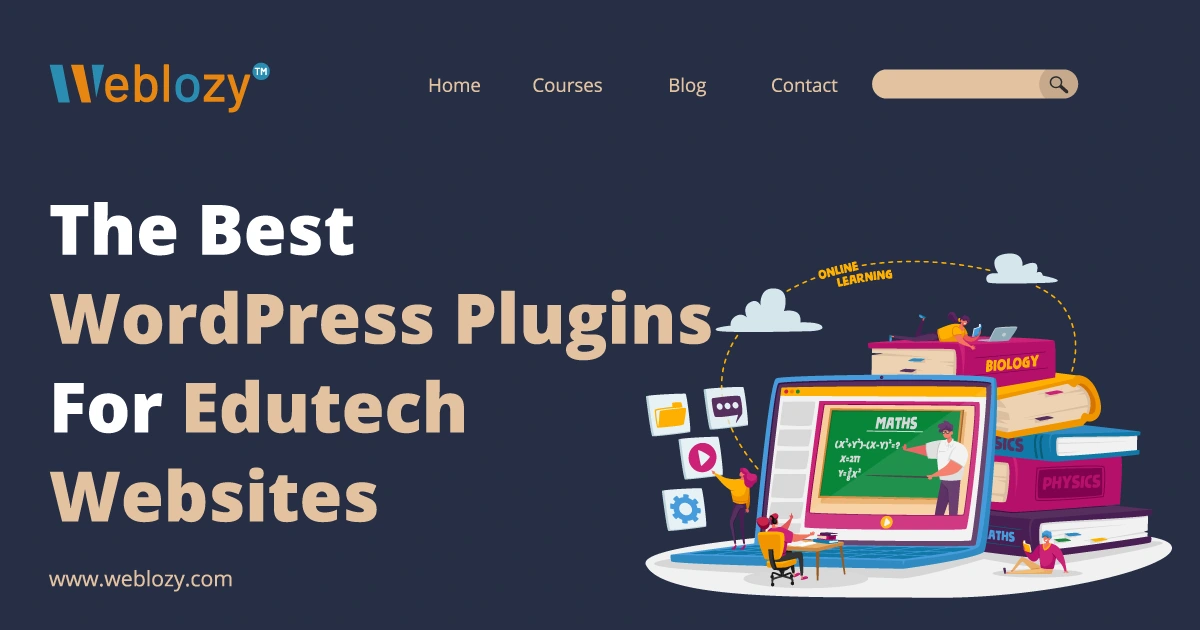 WordPress is a powerful platform used to build websites, and it is gaining popularity in the education technology space. With its robust features and powerful plugins, it is easy to create a website that will make a lasting impression on potential students. In this blog, we will discuss the top WordPress plugins that can be used to empower EduTech websites. These plugins will help to create an engaging and informative website that is user-friendly and encourages visitors to explore further. 
Tutor LMS
The robust WordPress plugin for setting up a complete online course marketplace. It appears to be a special and customized quiz maker for a website with instructional content. Builder of front-end courses, individual dashboards, various video resources, and several alternatives for withdrawal, compatible with Gutenberg, and more advanced analytics are some great features of it.
WooCommerce
The WooCommerce connector plugin is compatible with the learning management system for WordPress that can be used to develop and sell online courses. This allows you to sell your online courses completely under control. Its features include course creation using drag and drop
advance testing, flexible requirements, dynamic distribution of material, computerized notifications, Awards and diplomas, sophisticated sales, and marketing.
Lifter LMS
You may build and sell courses with the WordPress LMS plugin, which functions with a carefully built WordPress theme. Additionally, the plugin directly integrates with WooCommerce, and it may use Zaiper to link your WordPress LMS website to more than 1500 applications. Student dashboard, Course Builder, Course export Quizzes, Personalized emails, and Form integrations Certificates are a part of it.
Sensei
Plugin for managing instruction and learning that is used in conjunction with WordPress.com, WooCommerce, and Jetpack. Effectively create and market interesting online courses. You can track student progress and performance, embed a YouTube video, Make the appearance and feel more suitable to your needs, Activate the optional learning mode, Integration with WooCommerce, and Blocks with interactive content drip with Sensei.
Also Read: How to Choose the Best Software Development Company for IT Outsourcing
WP Courseware
The widely used WordPress LMS plugin makes creating courses easy and quick since it has all the capabilities needed to create a fully online course. It is used in making courses, selling courses, engaging students with quizzes, etc.
LearnDash
LearnDash is a comprehensive plugin for creating and managing online courses. It provides comprehensive tools for creating and delivering courses, quizzes, and other interactive elements to engage learners. It is a powerful plugin that can be used to create a comprehensive and engaging learning platform for any website. 
WPForms
WPForms is a powerful plugin for creating forms on a website. It can be used to create contact forms, surveys, quizzes, and more. It is a great tool for collecting information from visitors, and it can also be used to create registration forms and other forms that are essential for running an online education platform. 
Gravity Forms
Gravity Forms is a powerful plugin for creating forms that are easy to use and customize. It has a drag-and-drop interface that makes it easy to create forms in a matter of minutes. Gravity Forms is a great tool for creating registration forms, surveys, and more. 
BuddyPress
BuddyPress is an open-source plugin for creating social networks on a website. It can be used to create a community around an online education platform. It provides the tools for creating forums, groups, and other social features that can help to engage learners and promote learning. 
WP eCommerce
WP eCommerce is a powerful plugin for creating an online store. It allows users to easily create an online store with products, payment options, and more. It is a great tool for selling educational materials or creating a subscription-based learning platform. 
Also Read: 15 Ineffective UX Design Examples and Quick fixes
These are just some of the top WordPress plugins that can be used to empower EduTech websites. With these tools, it is easy to create a website that is engaging and informative and encourages visitors to explore further. 
Weblozy offers custom WordPress solutions that are tailored to the unique needs of EduTech websites. We specialize in creating educational websites that are optimized for performance and user experience. Our team of experts has extensive experience in Web Application development, ensuring that each website is efficient and secure. We are committed to providing top-notch WordPress plugins that are designed to help EduTech websites reach their full potential. With our plugins, you can easily add interactive features, establish secure connections, and enhance the overall user experience.