Which Indian eCommerce platform is the best?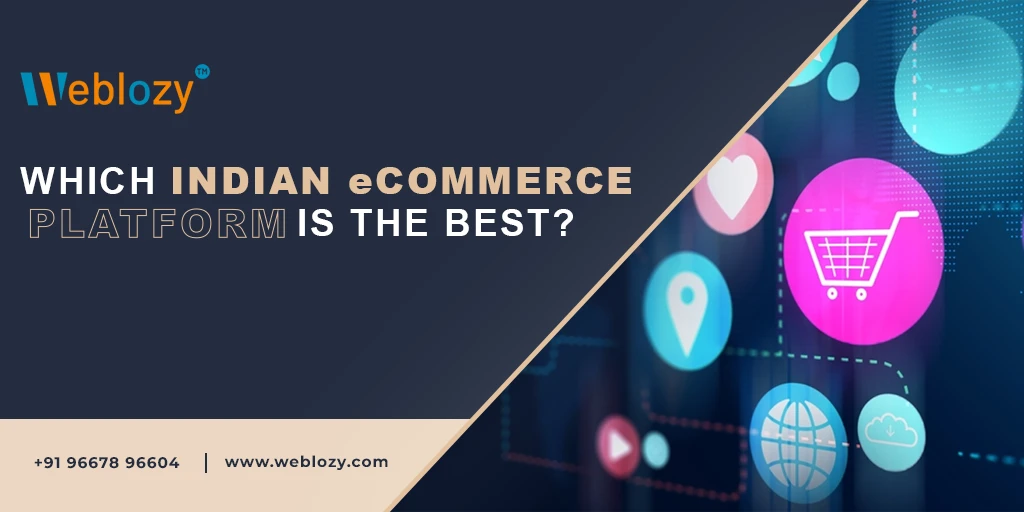 Which eCommerce platform is ideal for new businesses? Or which Indian eCommerce platform is the best? - These are hot-button issues for today's business owners and developers.
Due to advances in technology, companies now place a greater emphasis on their internet than their physical stores. It has changed how companies find the resources and chances they need to prosper.
Numerous organisations have been forced to embrace the practise of selecting an appropriate eCommerce platform as a part of their business foundation because of conducting business in the digital age. That's right, too!
Select The Appropriate Ecommerce Platform
Even if creating an eCommerce website is not a tough task, if you choose the incorrect eCommerce platform, it can be a time-consuming operation. If not now, your company will soon begin to feel the impacts of a poor decision.
In the eCommerce sector, several major players are growing their reach and market share.
These include:
Opencart

WooCommerce

Magento, and

Prestashop
Given how similar many of these platforms are, you might be asking how you would decide which one to utilise for your website. To choose the finest eCommerce platform for you, you must consider several things.
The capacity for use

Efficiency

Technology stack

Safety

Customization options are among them.
Based on these criteria, let's explore, examine, and contrast the eCommerce platform list's constituent parts. But first, let's define an eCommerce platform in more detail before we start comparing.
Magento
One of the most used and sought-after eCommerce platforms today is Magento. It is regarded as the greatest eCommerce platform in India by certain experts.
Over $100 billion in products is thought to have been handled by Magento globally.
Businesses frequently prefer this platform because of the benefits it provides in terms of performance, reliability, and security.

The installation of Magento on your hosting account is a simple procedure.

It continues to provide updated versions to meet the evolving needs of the corporate community and to address any security feature flaws.
Depending on the requirements of the company, Magento offers two editions:
Magento open source edition

Magento commerce edition
WooCommerce
WooCommerce is hailed as the most effective and suitable eCommerce platform in existence. About 30% of the overall eCommerce market is covered by it.
Neither a full content management system nor a full framework exists in WooCommerce. The WordPress plugin is available for free to use.

WooCommerce is particularly relevant to companies who don't want to invest a lot of money in creating an eCommerce platform because it is a very affordable and understated platform.

It is quite easy to use. Consequently, anyone with a regular computer can utilise this platform to make a website and an online business.
Also Read: Why do you need a Responsive Website?
Opencart
Free and open-source, Opencart is an eCommerce platform based on the PHP language.
The ideal candidates for Opencart are small and medium-sized enterprises.
This platform is used by about a million websites worldwide to manage their online companies effectively.

Among all eCommerce platforms, this one offers the greatest customising choices.

There are no add-ons necessary for this platform's basic installation. You will need to purchase the commercial version of Opencart to access add-ons and other features.

Businesses can use admin to access the admin panel.
Prestashop
A free to download and use open-source online music store is Prestashop. It is very likely among the top products in its category worldwide. More than 2,50,000 online stores use Prestashop worldwide.
With the help of this software, businesses may quickly launch and set up a fully functional, customised store. It includes a few distinctive characteristics, like the ability to forecast sales circumstances.

Businesses can combine their goods with internet shops like eBay, Google, and Amazon thanks to this.

Prestashop has a straightforward admin panel and is incredibly user-friendly. Its dashboard is modern and organised, making it simple to access all the store options.
Here are the top Indian eCommerce software solutions. You can also try the demo to see which of these programmes is ideal for your company. You can better grasp the software and make informed decisions if you try the demo. For small and medium-sized business owners looking to expand their operations, setting up an online store using e-commerce software has proven to be a terrific resource.
We sincerely hope that this will assist you in selecting the best platform for your online store.
HAPPY READING.