Why Ongoing Website Maintenance Drives Marketing Success?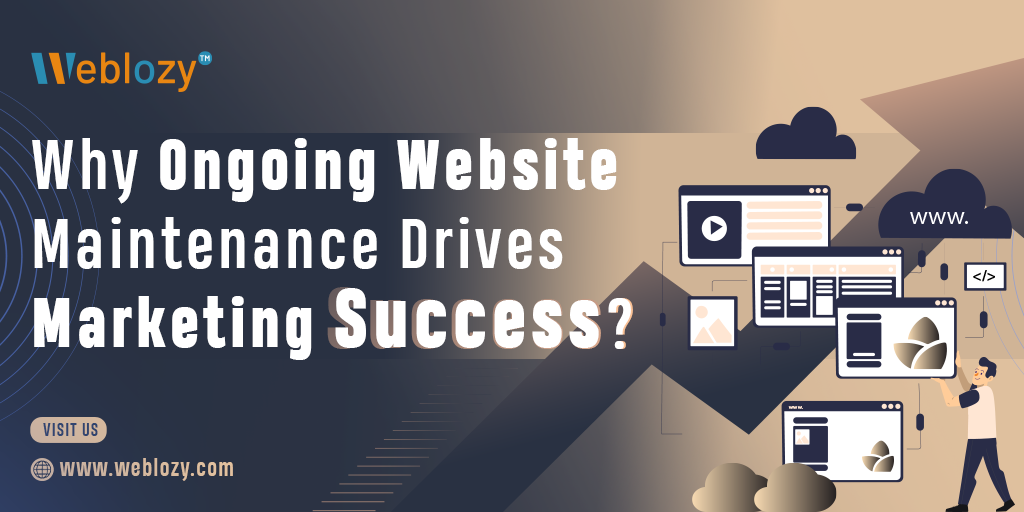 You're undoubtedly relieved that the protracted process of creating a new site is finally over, whether you've just launched a new one or concluded a revamp. Unfortunately, there are no ideal websites, and your job is never truly "done." The success of your digital marketing depends on continual website upkeep, which you can either handle yourself or contract out to a web design firm.
In this article, we'll point out some errors and misunderstandings people have concerning websites and give six reasons why regular upkeep is crucial. To give you a sense of what website maintenance normally entails and what you could begin adopting for your company, we'll also describe what is typically involved in it.
Ready? Let's dive in!
The importance of website maintenance
You'll be able to see what's working, what isn't, and how you can change things to make your website more effective when you approach it as an investment. Your website should ultimately help your company make money, and if it isn't kept up, you'll never figure out how to get the most out of it. Here are six reasons why it helps your company's marketing efforts succeed.
RENEW YOUR KNOWLEDGE OF YOUR AUDIENCE
Developing a thorough grasp of your target audience is one of the most difficult aspects of marketing. The ability to go into the analytics and comprehend how your audience is using your site is made possible by ongoing website upkeep.
Are there any conversions? Do they linger or do they swiftly leave your website? Exist any trends in user behaviour? You can learn more about your site's problems and prospects by answering all these questions. You may build a more effective site that is personalized for your audience by understanding these patterns and making modifications based on the data.
Without this continual examination, your website may stagnate, get out of date, and, worst of all, become useless to visitors who may otherwise be interested in your service or product.
KEEPS YOUR WEBSITE CURRENT
We've all visited websites that appear like they were created in the 1990s and haven't had any changes since, just as we've all visited both excellent and less-than-excellent websites. Maintaining your website regularly ensures that both the content and the design remain current. The last thing you want to do is turn off potential clients with an outdated website. Maintaining your website ensures that you stay current with the most popular web design trends so you can appear good and operate more effectively.
Also Read: Web Design Tips – 7 Secrets that Will Make Your Life Easier
IMPROVE SITE SPEED
Google now considers how quickly a webpage loads when calculating its ranking. In addition, research indicates that a page load time of 7 seconds causes 32.3% of website visitors to leave. Just 9.61% of visitors leave when a website loads in 2 seconds.
Your site can get a speed boost by compressing site files and minimizing the size of your visual components, which will improve your ranking and keep visitors on your page. Your website must load when users anticipate it to and on whichever device, they're using for it to be effective for your business.
MAKES WEBSITES MORE VISIBLE
A focus of continuing site upkeep is frequently search engine optimization (SEO). Making ensuring your site looks nice in the eyes of search engines empowers your audience to find your business on the web, just like changing your site's design and functionality to fulfill the demands of your visitors. SEO enables you to create an online presence around search terms your target audience is actively looking for, whether it's through developing an internal linking structure, acquiring backlinks, or regularly producing blogs.
Also Read: What Is Cross-Platform App Development?
DOUBLE DOWN ON INTERNAL EFFICIENCIES
You want your website to be as successful and efficient as possible, much like your business. Keeping your website current frequently involves streamlining your internal sales and marketing procedures with the most recent tools. Today's websites can do time-consuming operations without your involvement thanks to marketing automation.
The newest software and technology might save you hours of work while continuing site upkeep may seem like extra time you need to spend.
As you can see, creating and maintaining a successful website involves a lot of moving components. Sometimes it might feel overwhelming, especially when you finish one task just to find another that might produce even better results.
There is no such thing as a flawless site; keep in mind that it is a process.