Web Design Tips – 7 Secrets that Will Make Your Life Easier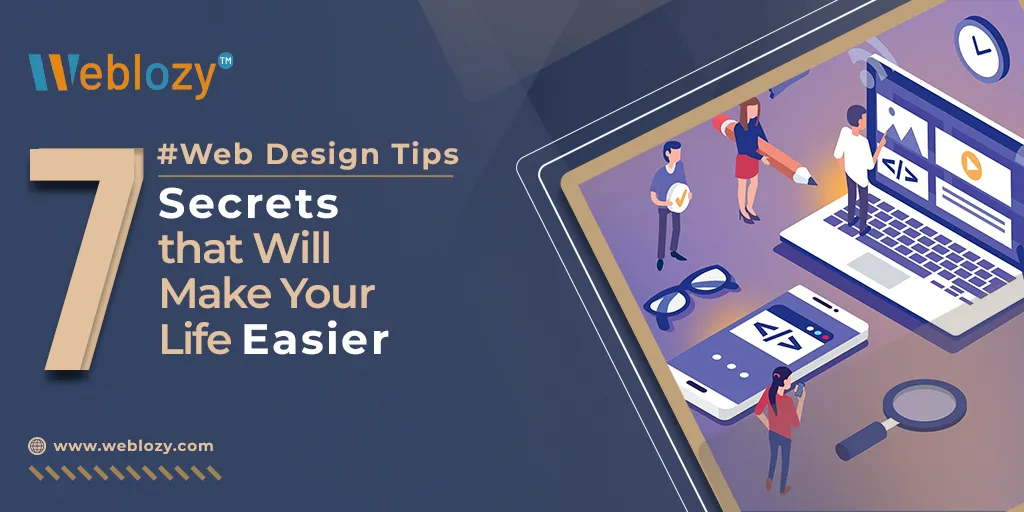 Web Design Tips
Web Design is an essential area to tackle while creating a professional website. A good web design not only creates a good first impression on your visitors but also speaks volumes about your branding.
While there are many things that you can do to ace the web design game, there are only a few essential things that you need to work on, to make sure that your website stands out. And as they say, "Minimal is always effective", which holds true in the area of web design as well.
Here are the 7 web design tips for beginners that will make your life easier!
1. Homepage Should be Free of Clutter
While many opt for an information-packed landing page, it may not be the most desirable thing to do. When a visitor opens the home page, s/he would not want to be bombarded with so many words and popping messages.
It is crucial to make sure that your homepage is clean and effective. By "clean" we mean clean! It should be a de-cluttered, organised space that allows the readers to gather only the most useful information. In their first visit, a user would most likely focus only on the keywords. So, make sure that you use fewer words that have more efficacy, instead of many words, that only add to the confusion.
2. Be Mobile Friendly
As more of the audience on any website comes via mobile phones, it is important to optimize your website accordingly. Even Search Engine Optimization should be done keeping mobile-friendliness in mind.This simple yet effective web design tip goes a long way!
3. Add Call-to-Actions on Your Homepage
An effective web design would allow your brand message to be easily reflective and clear. And if you add CTA on the home page, it will be a great way to let the users know what your main services are.
The chances are, that if your homepage delivers the brand message properly, it will be easier to get lead conversions through CTA. Not only would the users be more interested in buying your product/service, but they will remember your brand for a long time! This is a prominent reason why adding CTA to your homepage is a great responsive web design strategy for beginners who do not know where to start.
4. Include Images, Videos, and Animations
A good web design makes use of advanced technology always! And in 2022, it is highly advisable that you create your website keeping in mind the attention span of your audience.
Images, videos, and animations add to the interesting element of your website and also engage the audience with a shorter attention span. In 2022, adding media to your website is a great web designing strategy to attract like-minded tribes.
5. Include White Space
You do not necessarily have to fill every empty space on your website! If you want a cleaner-looking website, it is advisable to include more white space. It makes your website look more put together and also delivers the message more effectively.
While web designing for beginners may seem like an intensive and creative aspect, you must know that you do not have to pack excess information into one page itself. There is a reason why a good website has multiple pages. So don't ignore white spaces, it not only makes web designing more simple but also effective.
Also Read: Why do you need a Responsive Website?
6. Work on Your Menu
Make sure that your menu is easy to find. The menu is the most visited area on a website after the homepage. A visitor after going through the homepage would most likely find the menu to learn more about your site. So make sure it's up to date and easy to find! This is a great web design tip for beginners because the menu is not given much attention when you are just starting out.
But one of the best web design strategies is to curate an easily navigable and informative menu that serves the purpose!
7.  Maintain a Set of Fonts and Use Only Those
Using multiple fonts on your website won't do any harm but it certainly confuses the audience about your branding. If you use only a few fixed fonts, the chances are that your branding will be a tad bit stronger, and therefore what you say, will be more effective!
There's no harm in using multiple colours or fonts and layouts, but if you truly want to build a foolproof website, it is important to have some things fixed so that your brand can speak for itself.
Conclusion
These are the most important web design tips for beginners and even for professionals who want to curate a good-looking website.
You don't have to do everything that you read about web designing. Only a handful of aspects should be taken care of so that you can ace your web design like a pro!
Also Read: Which Indian eCommerce platform is the best?