Finance Website: 2023 Design Trends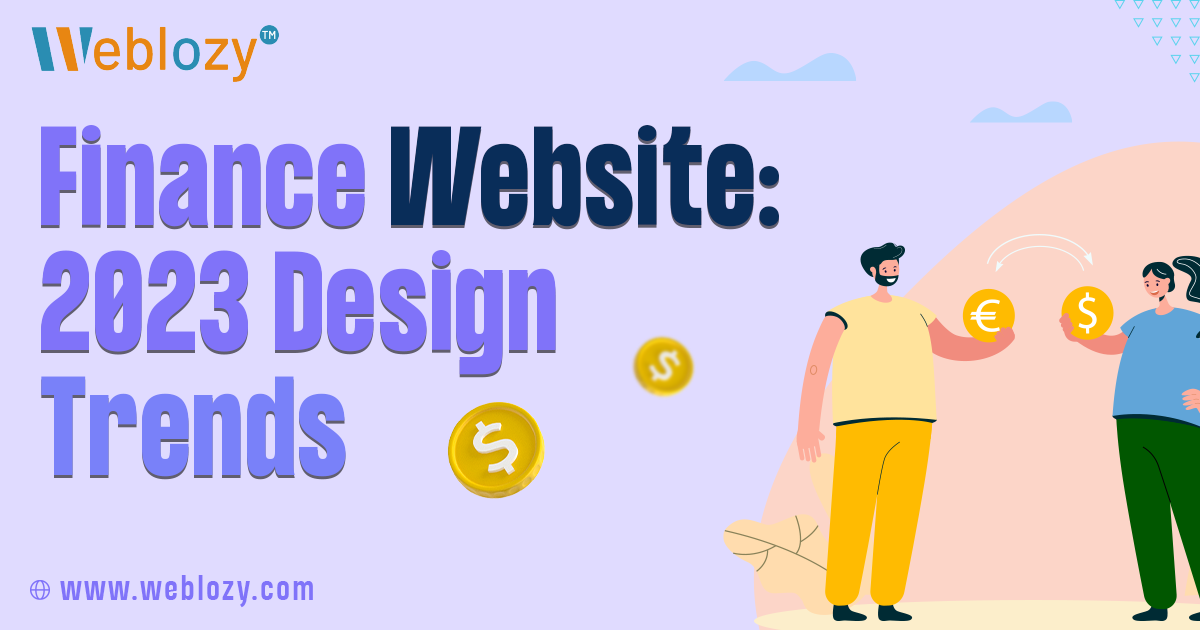 The world of finance is ever-changing and staying up-to-date with the latest trends is key to any successful financial website. Website design trends in the finance industry are constantly evolving and it's important to stay ahead of the game to ensure your website is modern, stylish, and engaging. 
Key Focus For Web Design
Page Speed Is the Most Crucial
Your financial website's load speed can be optimized in 2023 in order to reduce bounce rates and get an SEO advantage. You have access to a wide range of tools to gauge how quickly your website loads. PageSpeed Insights is a simple-to-use tool created by Google. After entering the URL of your webpage, the tool will begin analyzing your content. The program also offers a number of ideas for desktop and mobile enhancements. You will know exactly which regions to experiment with thanks to this. Users won't wait for a website to load; instead, they'll leave immediately and go to a site with a short load time. Make sure your website is optimized for speedy loading on users' devices.
Ensure All Users Can Access Your Site Your website
It should be usable by users who prefer to navigate using a keyboard versus a mouse. Give each field and placeholder on a form an appropriate label. High contrast should be used in the background colors. For each image, add an alt tag. Observe the header hierarchy. Publish video transcripts and captions
Give each field and placeholder on a form an appropriate label.
Perks of Voice Optimization
The new standard for web searches is voice search. The technique of making your finance website more visible for voice-intentioned searches is known as voice search optimization. With the changes to its Hummingbird and BERT algorithms, Google has begun to examine the context of a query rather than just specific words.
Compared to text-based inquiries, voice search questions are more or less conversational. Nowadays, a lot of us just pick up the phone, ask a question, and receive a response in a matter of seconds.
Personalization is Essential
You must be aware of a few standard issues when collecting user information through a form on your website such as security and convenience, easy integration into your design, staying to work with the database and CRM system, etc.
Additionally, you may obtain interaction data from various channels, touchpoints, and user interactions. Identifying user groups and personas is made easier by lead scoring algorithms. Also, to discover the content components that influence your lead conversions, you can use conversion tracking and content attribution.

Also Read: COMPETITOR ANALYSIS IN DIGITAL MARKETING 2023
In this blog post, we'll explore the top five finance website design trends for 2023 and beyond. 
Flat Design
Flat design is one of the biggest design trends of 2023 and is being used across the world of finance. Flat design is a minimalist approach that uses two-dimensional illustrations, colors, and typography to create a simple yet effective design. It's visually appealing and helps to create a modern and professional atmosphere. 
Responsive Design
Responsive design is a must in today's digital world. With more people using mobile devices than ever before, it's essential that your finance website is designed with a responsive layout. This allows your website to adjust its content and layout depending on the size of the screen it's being viewed on. 
Animation
Animation is an increasingly popular trend in finance website design. It can be used to create interactive and engaging experiences for users. Animation can be used to bring life to key elements on your website, such as graphs, charts, and other financial data. 
Video Content
Video content is becoming an increasingly important element of website design for the finance industry. Video is a great way to showcase key information and engage with users in a more personal way. Video can be used to demonstrate how to use a service, give a tutorial on a financial topic or even just provide a brief overview of your business. 
White Space
White space is an often overlooked website design element but it can be hugely beneficial for finance websites. White space helps to create a clean and uncluttered design. It also helps to emphasize key elements on the page and make your website more visually appealing.
Also Read: UX DESIGN IN THE METAVERSE: THE FUTURE
By staying up-to-date with the latest trends, you can ensure your finance website is modern, stylish, and engaging. By exploring each of these website design trends, you can ensure your website is well-equipped to meet the needs of your customers in 2023 and beyond. However, for the go-to solution, Weblozy is the perfect choice for businesses that want to create a professional, modern website that stands out from the competition. Our experienced team of web designers and developers will create a website that reflects your brand's unique personality. Contact us today to learn more about how we can help you create a website that is sure to make a lasting impression.