Personal Branding: Why Is It Important for Business Growth?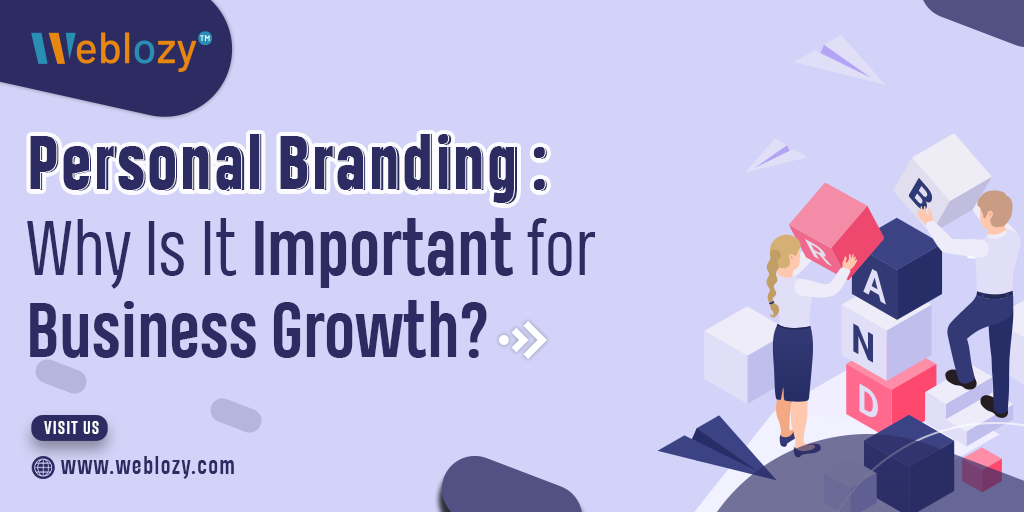 By building a brand around an individual rather than a company, personal branding is possible. It is the most effective technique to display a person's distinctiveness, expertise, and selling features. To gain recognition and establish one's personal brand, it involves exhibiting one's abilities, traits, and experiences.
Personal branding is the process through which an individual markets himself or herself and develops a public character for his or her business. People who transform their name into a visionary brand are said to possess charisma, which is another name for it. By becoming known and regarded as an authority in their field, a person might progress their career or business.
Steve Jobs, Bill Gates, Elon Musk, Ratan Tata, and other figures are examples of personal brands.
You are reminded of the individuals' careers every time you hear their names. The term Steve Jobs is used interchangeably with the name Apple. Like how Elon Musk is associated with Tesla, Bill Gates is associated with Microsoft, and Ratan Tata is well known for founding the Tata Group of Industries. Personal branding is when a person is acknowledged as a brand for his or her enterprise or body of work.
Personal branding: Its importance
Both a person's personal and professional life can benefit from personal branding. Following are some reasons why personal branding is important:
Helps to gain trust - Customers are more likely to trust other people than companies or corporations. Customer trust can be increased with the use of personal branding. It enables individuals to be known for who they truly are and the value they add to the company.
Before spending money on an individual's business or products, personal branding makes the person seem more approachable. Better customer interactions and company outcomes may result from it. Building connections with people throughout the world is beneficial.
Aids in setting the company apart from competitors - Building a strong personal brand establishes trust and sets your company apart from others in its field. It provides you an advantage over rivals as people come to identify and trust you.
Your knowledge and skills gain credibility, enhancing the reputation of your company. By effectively showcasing your individuality through branding, you may set yourself apart from competitors in your field and grow your own personal brand.
Increases your company's revenue - Building a strong personal brand can boost your company's growth and sales. It helps you establish yourself as an authority in your field.
As more individuals in your field become aware of you and your company, it may also assist you to seize new chances, such as business collaborations or marketing alliances. Customers will buy your items because they can relate to you, which will contribute to the expansion of your company.
Also Read: Purpose of a landing page - benefits and importance explained
Developing One's Personal Brand
The actions listed below will assist in developing and enhancing your own brand:
Find your niche- It can be challenging to market yourself personally if you don't have a specialty. Therefore, you must identify a niche. Your area of expertise is known as a specialty. In the field in which you are a specialist, you should develop your personal brand. You must be aware of the motivations behind developing your personal brand and comprehend your own personal branding goals.
Define your audience- Your competition before determining your personal branding target market. Without knowing your target audience, you cannot develop a personal brand. You will discover how to appeal to your audience as you get to know them. Determine the leaders or personalities in the same industry, then pinpoint what makes you unique.
Create a personal branding plan- Plan how you will interact with your target audience. Regularly respond to your audience. Engage your audience in conversation and encourage active participation. Set goals for your future business and a strategy for dealing with negative evaluations.
Create your personal brand- You may create your personal brand by sharing your ideas on social media, in networking settings, during speaking engagements, and in other ways that will help your audience come to trust you. Using content marketing, you may strengthen your own brand. You can develop social media campaigns and individual websites to advertise yourself and develop your personal brand.
Also Read: 7 Digital Marketing Strategies to Grow Your B2B Business
Establish goals and successes – This is important for your personal brand so that you can gauge your progress on a regular basis. When you accomplish your goals, take stock of your success. Once you meet your first goals, set new ones to keep yourself inspired to do more.
Your personal brand is a priceless resource that may help your business grow at a rapid rate whether you are the creator, entrepreneur, CEO, or influencer. It's a chance to interact with the millions of people who value your work.