Purpose of a landing page - benefits and importance explained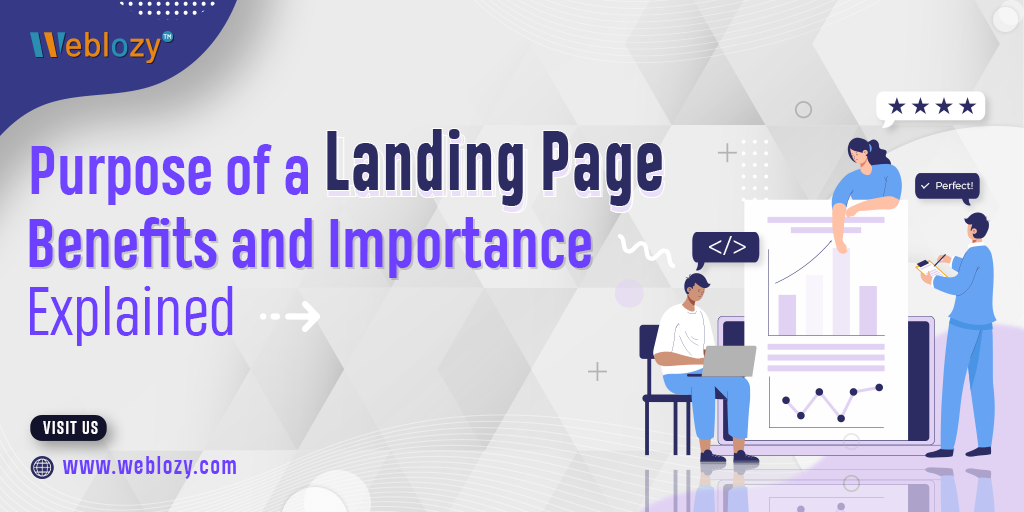 Everyone is aware of how important first impressions are. A user's perception of you and your company will be shaped by their first engagement with you and your company. This holds true for any online and in-person conversations. A landing page has many advantages for your business. It provides a sneak preview of your company to your visitors.
Benefits and Importance of Landing Pages
However, the way you interact with new visitors could either signal the start of a fruitful client journey or the loss of a possible transaction.
When done correctly, landing pages provide useful information, draw visitors into the sales funnel, and give them an understanding of your business.
If you're interested in learning more, we've put together some fantastic landing page advantages for your company and how to maximize them.
Landing pages are distinct from other pages on your website since they concentrate on immediate objectives that will help you achieve your desired results. Landing pages help in the following - 
Boost your reputation by using basic, clear messages that explain the benefits of what you're selling. Users often prefer this kind of messaging. Your customers will see that you have their best interests at heart if they visit a landing page that has been thoroughly thought out. Additionally, they provide spaces for social proof elements like client testimonials for your products or services. Social proof has been shown to increase conversions.

Strengthen your brand: You've already worked hard to develop a digital brand; make advantage of what you've discovered. This is the outcome of keeping consistency in the look, feel, style, and copy of your website. There are several advantages to having a strong and distinct brand. When users aren't instantly converted, a powerful brand identity can help them remember you in the future, respond to your remarketing efforts, or promote you to their friends.

Both kinds of landing pages can help your company generate leads and boost sales. Since landing pages are more specifically targeted, they can put more of an emphasis on conversion rates than on knowledge and content. Instead, you may draw attention to the benefits of your goods and services and increase sales to a niche market that is already interested in what you have to offer.

Increase traffic: Using a landing page, you can boost website traffic even if lead generation isn't your primary objective. This will help potential customers get more familiar with your brand and your company. Your landing pages can more specifically target organic traffic when they are optimized for SEO, which will boost the likelihood that users will convert.
Also Read: Best practices to make your Facebook and Instagram ads more engaging
Good landing pages do the following
Lead generation through landing pages
A landing page's main objective is to inform visitors about your product or service and collect their contact information so that your sales team can turn them from prospects to clients. These pages are brief and ensure little diversion. It's critical that you raise awareness, influence their decision, and convert them using a straightforward form. To reduce time and improve efficiency, provide a field on the form that enables the sales staff to distinguish between quality leads and useless leads. By adding OTP capabilities to their mobile number or email address, you may avoid bots and fraudulent leads with authentication.

Optimization and A/B Testing
A/B testing allows you to compare the performance of the majority of the elements on your landing page, including the copy, content, form fields, and UI/UX. Your response will come from an increase in leads. For optimal clarity, only test two alternatives at once. Testing them will reveal which color your audience prefers, for instance, if one landing page is Red and the other is Blue. This information will help you determine what color to use for future campaigns. Altering the headline OR the banner image is another approach to test what appeals to your audience. You can also test out two form options—one that is brief and the other that is lengthy—to see which appeals to your potential clients.

Concentrate on Form
Landing pages' main objective is to get visitors to fill out a lead form. The bounce rate rises and your marketing efforts are less effective the more information you request from potential customers. Ask only the pertinent questions. The smart move is to leave a particular piece of information out of the form field if you are unsure of what to do with it. The ideal approach is to request the prospect's name, email address, and phone number so you have several options to get in touch with them. Keep only the fields that are necessary because research shows that having more than 3 fields significantly lowers the conversion rate.
Also Read: 7 Digital Marketing Strategies to Grow Your B2B Business
Final thoughts
Although you undoubtedly already understood how crucial landing pages were, the prior paragraph has undoubtedly caused you to concentrate on the "how."
Weblozy is a specialized digital marketing firm that supplies all-encompassing solutions in this area. Whatever your objective, we will assist you in easily achieving it. We handle everything, from planning your PPC campaigns to developing and implementing landing pages for optimum ROI! Get in touch with us to learn more.