TOP 3 ESSENTIAL ORACLE ERP MODULES YOU NEED IN 2023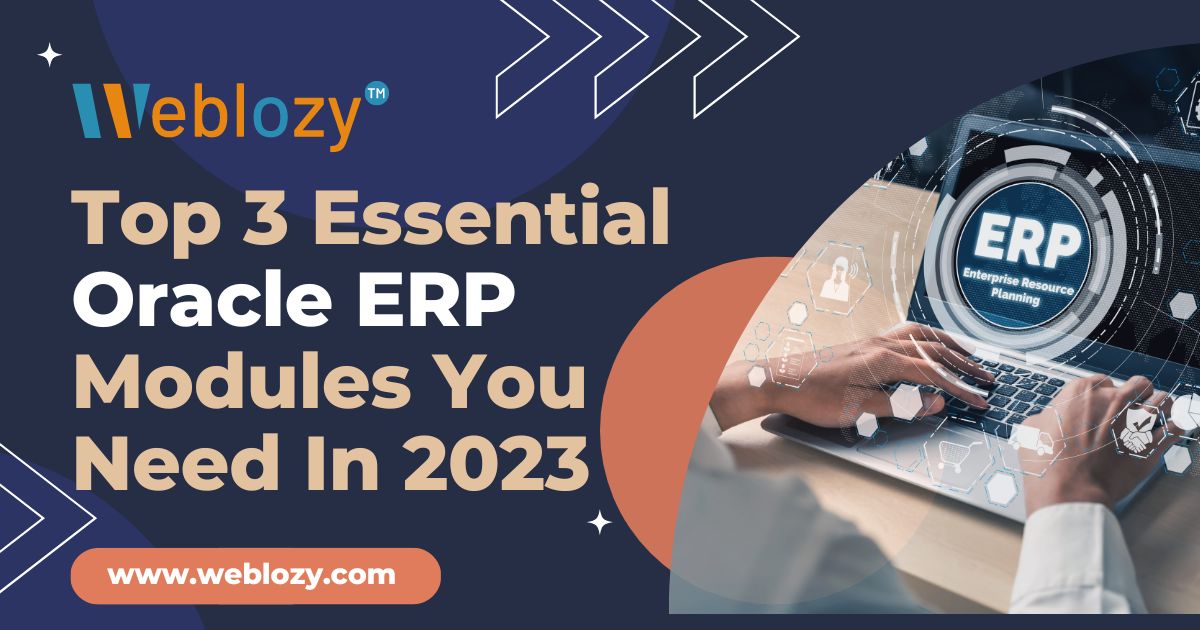 Oracle ERP is a comprehensive enterprise resource planning (ERP) system used by many organizations to manage their operations. As an enterprise software solution, it offers a wide range of modules and features that can help streamline processes and improve efficiency. With so many different modules available, it can be difficult to determine which ones are essential for your organization. 
The Advantages of Using Oracle ERP
One of the market's biggest participants right now is Oracle. Oracle ERP provides a broad range of solutions that boost efficiency and cut costs while enabling firms to make wise business decisions. Organizations may use cloud technology to obtain a quicker time to value while boosting scalability and expansion thanks to Oracle ERP's cloud solution. Compared to traditional on-premise installations, businesses are able to introduce new features more quickly and reliably.
Businesses benefit from Oracle ERP's ability to manage and customize reports. Companies may swiftly respond to data requests without involving an IT staff or specialist thanks to improved reporting features.
1. Oracle ERP Financials
An ERP finance module is among the most crucial ones to have. Financial data has an impact on all divisions within a company, despite the fact that every corporation may run differently. The Oracle ERP system's financial module provides the financial capabilities necessary to support contemporary finance, cost management, accounting engines, revenue management, and other functions. The three services included in this Oracle module are the Oracle Revenue Management Cloud, the Accounting Hub Cloud, and the Financials Cloud, which includes spending and budgetary control.
A strong financial management module in your Oracle ERP System has a surplus of capabilities designed to manage all of your cash. This module's goals are to automate expenditure processing, simplify accounting and general ledgers, and report on new KPIs.
2. Oracle ERP Procurement
Industrial operations may fall apart quickly if the time that should be spent on strategic planning is taken up by cumbersome manual tasks and fragmented business systems. All businesses use the Oracle ERP Procurement module as a crucial ERP solution to improve procurement processes while boosting profitability.
The buying solutions provided by this module facilitate procure-to-pay processes while upholding agreed-upon pricing with recognized vendors. Moreover, it enables modernized procurement solutions by automating invoice validation with complete accounts payable connection.
Businesses may assure compliance spending from authorized suppliers through self-service procurement, enabling staff to make their own purchases using an intuitive application. The Oracle Sourcing Cloud assists in managing sourcing objectives, encouraging supplier competition, and evaluating numerous bids based on a variety of factors.
Also Read: Increasing Digitalization of Financial Products and Asset Classes in 2023
With the ERP Procurement Contracts cloud module, which guarantees supplier compliance and performance, businesses may increase profit margins even further. With web-based connection and electronic invoicing, the ERP procurement supplier portal module provides enterprises with insight into all source-to-settle processes. In a world where data-driven choices and enhanced procurement procedures are important, the Oracle ERP Procurement module now enables increased insight and efficiency.
3. Oracle ERP Manufacturing
The Oracle ERP manufacturing module is yet another crucial ERP component that each and every firm requires. For incoming inventory estimations and order fulfillment procedures, businesses must always be aware of how much supply is still available.
As a part of the supply chain management system, this ERP module seeks to provide comprehensive inventory management and simplify production cycles. This Oracle ERP module includes a manufacturing intelligence module, a discrete manufacturing module, a process manufacturing module, and an import module for purchase orders.
The manufacturing module of Oracle ERP enables a comprehensive collection of reports and transactions for managing inventory control as well as gathering and evaluating real-time performance data to improve efficiency and increase profit margins.
Top 3 essential Oracle ERP modules
Here are the top 3 essential Oracle ERP modules you need: 
Financials
Oracle Financials is an essential module for managing your finances. It offers features such as accounts payable, accounts receivable, general ledger, and fixed assets. It also provides tools for creating budgets, forecasting, and financial reporting. 
Supply Chain Management (SCM)
Oracle SCM is a cloud-based module that helps you manage and optimize your supply chain operations. It includes features such as demand planning, order management, inventory optimization, and warehouse management. With Oracle SCM you can improve your visibility into the supply chain, increase efficiency, and reduce costs. 
Human Capital Management (HCM)
Oracle HCM is a comprehensive module that helps you manage your human resources operations. It includes features such as employee recruitment, onboarding, performance management, and payroll. Oracle HCM also provides tools for employee engagement, learning, and analytics. 
Also Read: COVID Impact: Massive Shift of Multiple Industries to Web Technology

These are the top 3 essential Oracle ERP modules you need to manage your operations effectively. By leveraging the features and capabilities of these modules, you can improve your business processes and maximize efficiency. 
Weblozy is a software development and consulting firm with expertise in Oracle ERP. We specialize in providing custom solutions to help you get the most out of your Oracle ERP system. Contact us today to learn more about how we can help you get the most out of your Oracle ERP system.