How to Conquer the Medical Web Development Market?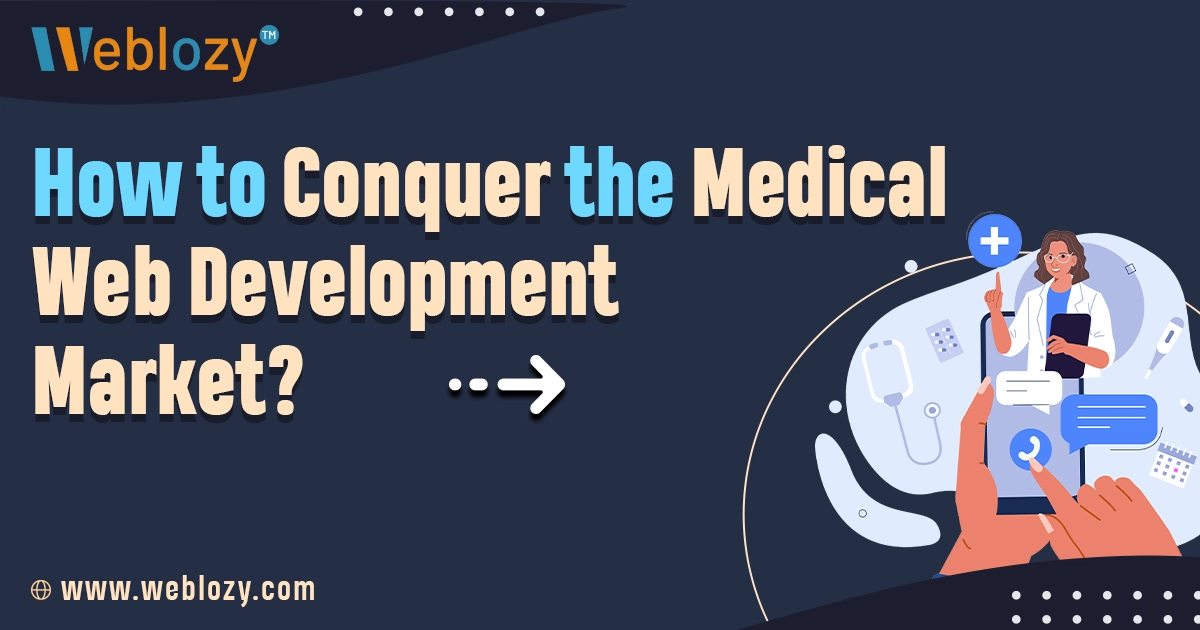 As the medical industry continues to become increasingly digitised, the need for medical web development is growing rapidly.  Web development makes it possible to build safe, user-friendly, and functioning websites that make it simple for patients to access their medical records. Here are some pointers to assist you dominate the market if you want to establish yourself as a leading medical web developer and build a name for yourself in the medical sector.
1. Understand the Needs of Medical Professionals The most successful medical web developers are those who understand the needs of medical professionals and their patients. Before you can create a website that addresses the needs of medical professionals, you need to understand their specific requirements. Take the time to research the industry, the different types of medical websites available, and the best practices for medical web development. 
2. Keep Up With the Latest Technology Technology is constantly evolving, so it's important to stay up-to-date on the latest trends. This means keeping an eye on new developments in web development, such as coding languages, frameworks, and other important tools. As a medical web developer, you should also familiarize yourself with the latest trends in medical technology, such as telemedicine, patient portals, and digital health records.
3. Develop a User-Friendly Design In order to be successful in medical web development, you need to create a website that is both user-friendly and visually appealing. This means focusing on creating an intuitive navigation structure, attractive visuals, and a website that is optimized for both desktop and mobile devices. Additionally, you should consider the needs of disabled users and ensure that your website is accessible and compliant with the latest web standards. 
4. Incorporate Security Measures When developing a medical website, it's important to take into account the need for security. This means incorporating measures such as encryption, secure logins, and other security protocols to ensure the safety and privacy of patient information. Additionally, you should create a backup system to ensure that all data is stored securely and can be recovered in the event of an emergency.
5. Utilize SEO Strategies In order for your medical website to be successful, you need to ensure that it can be found by potential patients. One way to do this is by incorporating SEO strategies into your web development process. This includes optimizing content, using relevant keywords, and creating a website structure that is optimized for search engine crawlers.
Advantages of Having a Website for Clinics, Hospitals, and Healthcare Providers
Making a website for your healthcare company is no longer simply a popular topic; it is now a need for success in the current world. Not only will the medical website boost the number of individuals looking for physicians, but it will also provide them the freedom to select from a variety of possibilities. The introduction of websites has made medical procedures more reliable, organized, and accessible. All you have to do is work with the top website development firm to quickly transform your concept into a possible solution.
24/7/ accessibility
If your hospital or clinic has a website, people may discover your services whenever they need them. This implies that customers may access your company's information even after hours, and your website is available to assist them. This allows patients to get all the information immediately in an emergency without having to leave the comfort of their homes.
Produce more leads
The places and borders where you can produce business are always a restriction with the typical company technique. However, if you really want to grow your company beyond local boundaries, a medical website is the only way to do it and attract clients from all over the world.
Insights
One of the most crucial components for tracking the development of your company's growth is business analytics, which offers current business information. You may design this area with the assistance of a web development firm so that it will allow you to examine the types of information seekers that often visit your website and how they find it.
Establishes Business Credibility
Patients will actively search for healthcare solutions online in this digital era by using tools like online forms and other ways to submit crucial information. Therefore, having all of these features on your website will assist to increase the reputation of your business, which in turn draws in additional information searchers.
Also Read: 2023 GUIDE ON ECOMMERCE PRODUCT SOURCING
The enormous influence of digitalization on the medical sector will surely change how the healthcare system provides treatment and information to patients. You may create a website that has a big effect and is interesting to users by taking into account the important aspects listed above.
By following these tips, you can become a top medical web developer and make your mark in the medical industry. If you want to launch a medical and healthcare website for your company that has the greatest features for it,  get in touch with Weblozy.